HONG KONG (Dow Jones Investment Banker) – With the lure of diamonds and soaring multiples in the jewelry sector, the jockeying is now on to become a bookrunner for the IPO of Chow Tai Fook Jewellery Co. Ltd. The offering, in Hong Kong, is expected to raise some US$3 billion.
About 10 investment banks have signed non-disclosure agreements and are now competing in a beauty pageant. Chow Tai Fook Jewellery is indirectly owned by Hong Kong tycoon Dato' Dr Cheng Yu-tung and his family, who control the high-profile New World Group. The investment story looks attractive, and a handful of firms appears well placed to win what is likely to be a hotly contested ECM mandate.
Wholly-owned by Cheng's private firm, Chow Tai Fook Group, which claims on its website to be worth about US$33 billion, Chow Tai Fook Jewellery has been active in diamonds, jade and gold for some 80 years. As a purchaser, producer, designer and retailer of diamonds, it is one of a select group of fewer than 80 Sightholders appointed by De Beers Group's Diamond Trading Co., as well as a Select Diamantaire for Rio Tinto. The group has two diamond-cutting facilities in South Africa and one in China, with design and manufacturing plants in the mainland and Hong Kong, producing more than 7 million pieces of jewelry every year.
It's very much a China growth story. Chow Tai Fook Jewellery operates some 1,000 sales outlets, employing 30,000 staff, principally in the mainland, with more than 45 chain stores in Hong Kong, seven in Taiwan as well as in Malaysia and Singapore. It plans to more than double the number of outlets by 2020.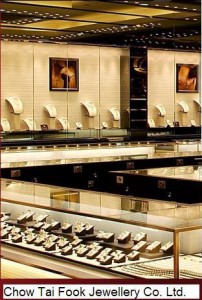 Financial information remains patchy, although Chow Tai Fook Jewellery has disclosed annual sales in excess of US$3.8 billion equivalent, and its parent estimates on its website the value of the company at some US$12.8 billion. Assuming a typical 25% free float, this points to a US$3 billion IPO – guaranteed to whet the appetite of ECM bankers.
The timing looks good. Italy's much smaller Bulgari SpA, which had 2010 sales of about US$1.5 billion, was recently acquired by France's LVMH in a deal valued at more than US$6 billion, equivalent to an eye-watering 2011 EBITDA multiple of 22x, while Hong Kong's US$700 million Emperor Watch & Jewellery boasts a current P/E of 38x.
According to CLSA, Asian-listed high-end companies have re-rated by 57% during 2010, but are on average still trading at an attractive P/E in the low 20s.
However, not all stocks in the sector are so highly valued. India's smaller US$470 million Gitanjali Gems, another De Beers Sightholder with some 2,500 points of sale, and which has also recently seen an investment by LVMH Moët Hennessy-Louis Vuitton in one of its units, trades at only 10.5x earnings.
Bookrunner hopefuls for Chow Tai Fook Jewellery's IPO are likely to include Goldman Sachs, which recently handled a major private placement for Ping An Insurance that was entirely taken up by Chow Tai Fook Enterprises Ltd. It is also one of the lead banks for Prada SpA's proposed float in Hong Kong, for which the listing application has just been submitted.
Though not as high up in ECM rankings, CLSA should stand a good chance, too. The French broker, which is currently finalizing its tie-up with China CITIC Bank Corp., is also one of the leads on the Prada deal. Its bullish 140-page research report on the luxury market in greater China, published last February, can't hurt either.
Other houses such as Bank of AmericaMerrill Lynch and HSBC can point to ranked analysts covering the European luxury goods, while Bank of China International has previously led ECM deals for Cheng's companies. It may also benefit as the IPO is said to be seeking to raise yuan as well as Hong Kong dollars. Bank of China Ltd. is also listed in the annual report for Cheng's New World Development Co. Ltd. as one of its principal bankers, alongside such other banks as Citigroup, DBS Bank, Industrial and Commercial Bank of China (Asia) Ltd., HSBC and Standard Chartered PLC.
Another factor will make the competition interesting: Most of the larger Hong Kong-based houses have included Chow Tai Fook vehicles as cornerstone investors in their own IPOs.
In the cutthroat world of ECM, any argument works – and the cohort of eager competitors is hardly likely to stand still and watch.
(Philippe Espinasse worked as an investment banker in the U.S., Europe and Asia for more than 19 years and now writes and works as an independent consultant in Hong Kong. Visit his website at https://www.ipo-book.com. Readers should be aware that Philippe may own securities related to companies he writes about, may act as a consultant to companies he mentions and may know individuals cited in his articles. To comment on this column, please email [email protected]).
[This article was originally published on Dow Jones Investment Banker on 31 March 2011 and is reproduced with permission].
Copyright (c) 2011, Dow Jones & Company, Inc.