HONG KONG (Dow Jones Investment Banker) – Luxury second-hand handbag retailer Milan Station Holdings Ltd. is eyeing an IPO of up to US$35 million, for about 25% of the company in Hong Kong, according to a filing with the Stock Exchange of Hong Kong May 3. The transaction raises questions about the company's supply arrangements, and the sustainability of its business model.
It was only a matter of time. Riding on the wings of possible flotations for the likes of Italy's Prada SpA, Samsonite, Ducati Motor, Coach Inc. or Jimmy Choo, Milan Station is attempting to beat them to the post with a proposed listing on May 25. The company appears eager to capitalize on China's seemingly insatiable appetite for luxury goods. The Standard reports that Milan Station has secured three cornerstone investors for about 15% of the deal, including a famous sushi restaurateur, and tycoons of local paper and jewelry businesses.
(Click HERE for Milan Station's web proof information pack filed with HKEx)
(Click HERE for The Standard's article "Milan Station packs bags for its listing roadshow")
Those that are not fashion victims, nor blessed with demanding girlfriends, partners or wives in Hong Kong, will likely be unfamiliar with the name.
Milan Station, founded in 2000 in Tsim Sha Tsui, operates 14 stores, principally in Hong Kong, but also in Macau, Beijing and Taipei, that sell mainly second-hand, designer handbags and accessories, primarily to a Mainland Chinese clientele. In 2010, 43.2% by value of the bags it sold had a retail tag of more than US$6,410 equivalent, a year when Milan Station generated a profit of about US$7 million on turnover of more than US$71 million. The company, however, experienced negative cash flow from its operating activities that year.
According to the company's information pack, the luxury branded handbag market in greater China was worth US$1.72 billion in 2009, and is forecast to quadruple by 2014.
With waiting lists of up to five years to secure a Hermès Birkin bag, Milan Station is making a brisk trade as well-heeled tourists and ladies-who-lunch, and who are not minded on waiting, can readily secure branded accessories at premium prices.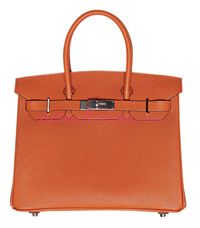 Other brands, including Louis Vuitton, Gucci, Christian Dior and Bottega Veneta feature heavily on Milan Station's shelves. This is a seasonal business: Sales are high (and stores particularly well stocked) in the winter months, around Chinese festivals — and after Valentine's Day, when unwanted gifts from tycoon lovers often find their way into its outlets.
While Milan Station's fortunes are inextricably linked to those of the big fashion houses across Asia, its IPO also raises some serious issues.
There's the obvious question of how the company is able to secure what appears to be an inexhaustible supply of goods that are in high demand and short supply. Milan Station states that more than 85% of sourcing comes from public consumers but sales of unused items now account for more than 46% of revenue
While its other network of suppliers appears broad, and Milan Station has procedures in place to ensure goods are obtained legally, there are also questions about parallel imports, which the company says "are considered to be a fairly common phenomenon" and "not generally prohibited" in Hong Kong.
The company plans to open 24 new shops on the Mainland over the next two years. Whether its business model can remain sustainable on such a large scale is also a legitimate question. There are also other potential issues with counterfeit goods, with the fact that Milan Station's top three shops account for a disproportionate share of its business, with copycat competitors and with short-term tenancy agreements, a number of which have no renewal option.
The prospectus makes fascinating reading, and the company provides a glimpse into the financial aspects of the life of a "tai tai" — Hong Kong's very own answer to Carrie Bradshaw of "Sex And The City."
As to whether a free float of US$24 million to US$35 million will do much for investors, the answer is already clear – diminutive aftermarket trading is unlikely to fuel much sell-side research following the company.
Milan Station shares are thus likely to match its product offering – premium wares, for image-conscious buyers only.
(Philippe Espinasse worked as an investment banker in the U.S., Europe and Asia for more than 19 years and now writes and works as an independent consultant in Hong Kong. Visit his website at https://www.ipo-book.com. Readers should be aware that Philippe may own securities related to companies he writes about, may act as a consultant to companies he mentions and may know individuals cited in his articles. To comment on this column, please email [email protected]).
[This article was originally published on Dow Jones Investment Banker on 4 May 2011 and is reproduced with permission].
Copyright (c) 2011, Dow Jones & Company, Inc.