HONG KONG (Dow Jones Investment Banker) – Pavilion REIT, a real estate investment trust which will invest in one of Kuala Lumpur's major shopping malls, is reportedly about to launch an IPO and thus become the latest addition to Malaysia's REIT (M-REIT) success story.
The deal, worth around US$255 million equivalent and expected in November, would be the fourth largest IPO in Malaysia this year. Led by CIMB, Credit Suisse and Maybank, it should see about a quarter of the trust being offered to investors at a yield of perhaps 6% to 7%.
If successful, Pavilion REIT would be the 15th M-REIT, and perhaps also the second largest.
M-REITs have done well, with the largest ones having posted increases in unit prices of almost 32% on average since IPO. These instruments currently trade around their net asset values, and at an average distribution yield of around 7%.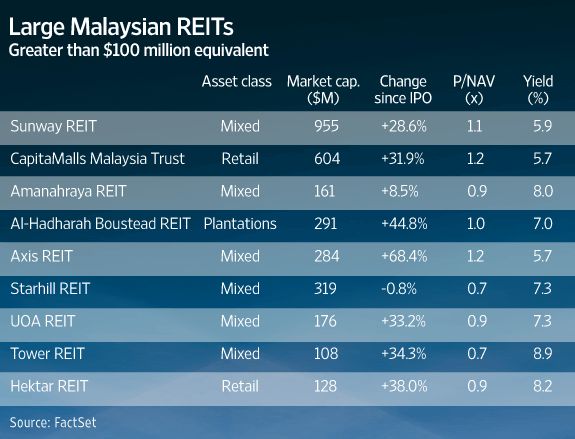 There are subtle differences with REITs listed in other Asian markets. In Malaysia, at least 50% of a REIT's total asset value must be invested in real estate and/or single-purpose companies at all times, whereas that threshold is usually around 70% or 75% elsewhere.
Investment in property development is prohibited, while leverage is capped at 50% of total asset value (up from a prior limit of 35%), which lies between the limits in force in Hong Kong and in Singapore. In addition, while all other markets require a minimum payout of 90%, no such minimum is specified in Malaysia's REIT guidelines – although it's effectively the practice there too.
Lastly, several REITs in Malaysia are Shariah-compliant (and accordingly called I-REITs), as befits one of the largest markets in the world for Islamic finance.
[Click HERE for my column: "Malaysia, Truly (Doing Better In) Asia" (January 5, 2011)]
The Pavilion Kuala Lumpur is a high-end, mixed-use urban development opened in 2007. It comprises a retail podium with a total net lettable area of 1.37 million square feet with 450 shops, an office tower with a net floor area of 185,000 square feet, two luxury residential towers, and a planned, six-star boutique hotel in the heart of the city's golden triangle, in the Bukit Bintang and Raja Chulan area. It's unclear at this stage exactly which assets will be included in the REIT.
The shopping mall is said to be 98% let, and market observers have speculated that Fahrenheit 88, another mall with a high occupancy rate that is located opposite The Pavilion and which is under the same management, may later also be injected into the trust.
The Pavilion is currently owned by Desmond Lim Siew Choon, executive chairman and controlling shareholder of listed property development, construction and property investment company Malton Bhd, his wife, Datin Tan Kewi Yong, and the Qatar Investment Authority, which owns a 49% stake in the ultimate holding company.
Launching an IPO in these choppy markets is a brave move indeed, with even defensive companies such as San Miguel Corp's power unit having called it a day this week, postponing a proposed US$855 million offering in the Philippines. However, the FTSE Bursa Malaysia KLCI index is down only 9% this year, and investors have also made good money on Sunway REIT's US$455 million IPO since pricing in June 2010. Pavilion's offer size is reasonable, so investor support will largely come down to pricing.
(Philippe Espinasse worked as an investment banker in the U.S., Europe and Asia for more than 19 years and now writes and works as an independent consultant in Hong Kong. Visit his website at https://www.ipo-book.com. Readers should be aware that Philippe may own securities related to companies he writes about, may act as a consultant to companies he mentions and may know individuals cited in his articles. To comment on this column, please email [email protected]).
[This article was originally published on Dow Jones Investment Banker on 11 October 2011 and is reproduced with permission.]
Copyright (c) 2011, Dow Jones & Company, Inc.