HONG KONG (Dow Jones Banking Intelligence) – Selling shares in renowned branded product companies to Asian investors is one thing. But the IPO of Canadian energy firm Sunshine Oilsands Ltd on the Stock Exchange of Hong Kong will break new ground. Sunshine Oilsand's assets are primarily in North America – 465,000 hectares of oil sands leases in the Athabasca region, in northern Alberta, Canada – with reserves and resources (as of July 1, 2011) totaling 45.4 billion barrels of best estimates petroleum initially in place.
A company like this would have typically been listed in Toronto or New York. For a globally conscious management, London would have been the next best choice. Undoubtedly, the listing of Sunshine will test the appetite of Asian investors for a lesser known resources company.
So far Sunshine's pitch has worked.
Last year it had secured C$450 million pre-IPO equity investment from China Life, Bank of China Group Investment (hence – one suspects – the IPO mandate), Orient International Resources and Hong Kong' s Cross Straits Common Development Fund, which in November 2010 also took a 24 percent stake in Sydney-listed emerging gold producer Carrick Gold.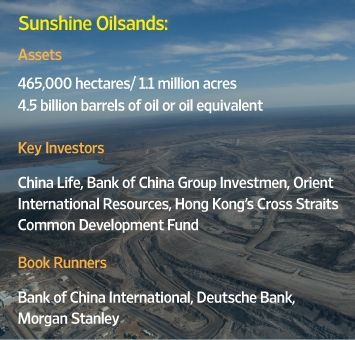 Cornerstone investors have over the last couple of weeks also committed to join the register for a combined US$350 million. Two of them are Chinese, sovereign wealth fund CIC for US$150 million and oil giant Sinopec, also for US$150 million, with EIG, the energy and infrastructure group of Trust Company of the West, chipping in for another US$50 million.
The offering would bring in anchor investors, possibly Malaysia's oil behemoth Petronas, said to be taking a stake of up to US$100 million. Some of these allocations might have to be scaled back to comply with the listing rules in Hong Kong.
The company, through Bank of China International (BOCI), Deutsche Bank and Morgan Stanley as joint bookrunners, is now raising up to US$606 million equivalent (US$697 million after exercise in full of a 15% over-allotment option) in what could be – so far – the largest IPO in the year of the dragon. The deal, which is a 100% primary offering, could capitalize the company at just below US$2 billion.
What's intriguing right now is to what extent the company's stock will be liquid enough after the listing. Despite a substantial amount of Chinese funds earmarked for the deal, and some Chinese senior managers, Sunshine Oilsands can hardly be said to be a fully-fledged Asian investment proposition. 93% of the net proceeds of the flotation will be used for the development of oil sands and heavy and light oil projects – in Canada.
The success of the IPO notwithstanding, it is probably unlikely to set the tone for future IPOs in Hong Kong in the short term. With a significant pipeline and a number of deals to be re-launched after having being pulled in 2011, investors will consider every transaction on its own merits. Valuation is likely to feature highly on their list of priorities too.
Indeed, the big question is whether it will lure retail investors, who were largely absent from Hong Kong IPOs last year. These will resume queuing up outside bank branches in the pursuit of hot transactions only if at least a couple of IPOs exhibit an upward price performance.
Similarly, market observers will be focused on whether Sunshine Oilsands, which should have a decent free float, posts good trading volumes, something that has so far eluded other Canadian issuers in Hong Kong such as SouthGobi Resources Ltd and China Gold International Resources Corp Ltd, despite reasonably sizeable initial public offerings in the US$300-450 million range.
A strong start to Sunshine Oilsands trading could also prompt Hutchison Whampoa to finally proceed with the well-flagged Hong Kong listing of its 35% owned, Toronto-listed unit, Husky Energy Inc.
(Philippe Espinasse worked as an investment banker in the U.S., Europe and Asia for more than 19 years and now writes and works as an independent consultant in Hong Kong. Visit his website at https://www.ipo-book.com. Readers should be aware that Philippe may own securities related to companies he writes about, may act as a consultant to companies he mentions and may know individuals cited in his articles. To comment on this column, please email [email protected]).
[This article was originally published on Dow Jones Banking Intelligence on 17 February 2012 and is reproduced with permission.]
Copyright (c) 2012, Dow Jones & Company, Inc.