HONG KONG (Dow Jones Investment Banker) – Russian President Dmitry Medvedev and his entourage were all smiles when they visited the Stock Exchange of Hong Kong's trading hall Sunday. But listing Russian companies in Hong Kong still faces technical and regulatory hurdles, as well as in many cases an uphill struggle to convince investors in Asia that Russian stocks have a place in their portfolios.
Before Medvedev's visit, Russian investment bank VTB Capital announced through CEO Yuri Soloviev the opening of an office in Hong Kong, where it plans to hire some 30 people to help Russian companies conduct IPOs and raise "billions of dollars" in Asia.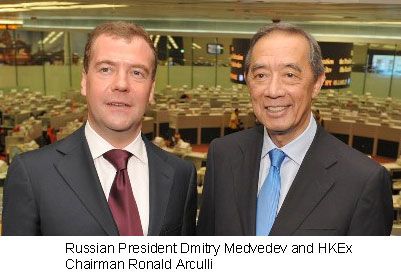 (Click HERE for HKEx press release)
Candidates for listing in Hong Kong are said to include power company EuroSibEnergo, controlled by Oleg Deripaska and which pulled an IPO there earlier this year, conglomerate Renova Group (including Kamchatka Gold), owned by oligarch Viktor Vekselberg, banking group Otkritie Financial Corp. and hydro-energy group RusHydro.
Russian companies are following the same logic as global commodities firms such as Glencore. Seeking a listing in Hong Kong is good politics against the background of China's seemingly insatiable appetite for natural resources. A deterioration in the primary equity market in London, the international listing venue of choice for Russian issuers, has also prompted them to look East.
At US$2.2 billion, Deripaska's aluminum producer United Co. RUSAL was the third largest IPO in Hong Kong in 2010, and the very first one by a Russian business there. It attracted high-profile cornerstone investors for about 40% of the deal, including Malaysian tycoon Robert Kuok, Russia's Vneshekonombank, Nathaniel Rothschild and John Paulson's hedge fund.
It hasn't all been plain sailing, though. Shareholders had to wait for the best part of a year for the stock to finally trade above the offer price, and the regulator in Hong Kong, the Securities and Futures Commission, largely prevented retail investors from participating by imposing a sizeable initial board lot. This has since been adjusted downwards several times, boosting trading volumes, and also enabling a few sizeable block trades.
But there are still technical issues with listing Russian stocks in Hong Kong. Rusal is incorporated in Jersey and, despite statements of intent, including in HKEx's 2010-2012 strategic plan, as of April 14, Russia didn't appear on the list of jurisdictions which the listing committee has formally ruled as acceptable as an issuer's place of incorporation.
(Click HERE for a list of jurisdictions accepted by HKEx)
Furthermore, quite a few of the mooted IPO candidates are largely unknown quantities in Asia, and some are unable to demonstrate much more than a tenuous link with the region. This could be an issue in Hong Kong, where 30% to 50% of IPOs routinely get allocated to retail investors.
Many institutions with a base in Asia run regional portfolios too, and will find it hard to justify buying these stocks – unlike their counterparts in Europe.
Meanwhile, those Russian companies seeking secondary listings in the hope of tapping Asian wealth would be well advised to look at the diminutive trading volumes in Hong Kong for such giants as the UK's Prudential Plc and Brazil's Vale S.A. This raises the question of what such a move would bring them, aside from additional listing and sponsor fees, legal issues, and disclosure costs.
At the exchange, Mr. Medvedev was presented with a floor trader vest sporting the number 6683 (an auspicious one in Chinese) as a souvenir, but in Hong Kong, the R in BRICS could well stand for "rare" as well as "Russia."
(Philippe Espinasse worked as an investment banker in the U.S., Europe and Asia for more than 19 years and now writes and works as an independent consultant in Hong Kong. Visit his website at https://www.ipo-book.com. Readers should be aware that Philippe may own securities related to companies he writes about, may act as a consultant to companies he mentions and may know individuals cited in his articles. To comment on this column, please email [email protected]).
[This article was originally published on Dow Jones Investment Banker on 18 April 2011 and is reproduced with permission. It also appeared on WSJ.com, the website of The Wall Street Journal].
Copyright (c) 2011, Dow Jones & Company, Inc.