HONG KONG (Dow Jones Investment Banker) – As the Stock Exchange of Hong Kong finally opens its capital markets to allow listings by companies incorporated in no fewer than 15 jurisdictions, investment banks are actively scouting both the old and new worlds to identify candidates for IPOs there. Not all will fit the bill, and a significant presence in Asia will generally be a prerequisite. Secretive fashion group Agnès B, from France, could tick most boxes.
Agnès B was founded in 1975 by French fashion designer Agnès Troublé, now 70, in Paris, with the business spreading first to provincial cities in France and subsequently to the US, Japan, Europe, the rest of Asia and even the United Arab Emirates. The group mainly designs and sells casual clothing and cosmetics through a network of shops and in department stores. It also operates a few restaurants and flower shops in Asia, which contribute to the distinctive atmosphere of its retail outlets.
Celebrities such as Uma Thurman, who wore Agnès B in "Pulp Fiction", as did much of the cast of another Quentin Tarantino blockbuster, "Reservoir Dogs", have also contributed to making the brand famous. The group now has 10 international subsidiaries and a total of 246 shops – some of which are franchise operations – and employs 1,953 staff, according to its website. Almost 80% of its retail outlets are in Asia, with the majority of these in Japan. This would make for a strong Asia-focused investment case.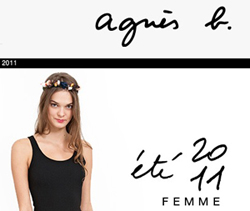 Agnès B also operates a dedicated online shopping platform in Europe (across 34 countries and territories) and the U.S. In a rare interview in 2009, management in Asia outlined plans to double the number of Agnès B's 10,000-to-15,000-square-foot stores in China, from seven at the time. It also said that up to 20% of sales in Hong Kong were made to mainland Chinese customers. The group now operates 12 shops on the mainland, in addition to the 23 it has in Hong Kong (where it has a presence in pretty much all of the territory's major shopping centers, including IFC Mall in Central), with 21 in Taiwan and one in Macau.
The bigger picture for the group remains opaque, and it is still tightly controlled by its founder. But its Paris-based CMC SAS subsidiary, which employs about 16% of the group's total staff, and looks after the French network and exports, generated an operating turnover of about $90 million equivalent, according to a 2009 filing. International end-consumer sales are made under separate companies. Hong Kong-listed Ports Design Ltd., which had a 2009 turnover of about $235 million, operates 353 stores and has a market capitalization of around $1.4 billion, would appear to be a reasonable, if perhaps larger, proxy.
Assuming that Agnès B's model and growth prospects prove to be attractive enough, significant work would still be needed before the company was in shape for a flotation, including a consolidation of its commercial activities under a single, limited liability company.
There is also the small matter of convincing Mme Troublé and Chief Executive Officer Etienne Bourgois, both well known as patrons of the arts and for embracing environmental ventures, to offer shares in Hong Kong and internationally to institutional and retail investors. But then, that's what smooth-talking investment bankers are for.
(Philippe Espinasse worked as an investment banker in the U.S., Europe and Asia for more than 19 years and now writes and works as an independent consultant in Hong Kong. Visit his website at https://www.ipo-book.com. Readers should be aware that Philippe may own securities related to companies he writes about, may act as a consultant to companies he mentions and may know individuals cited in his articles. To comment on this column, please email [email protected].)
[This article was originally published on Dow Jones Investment Banker on 8 March 2011 and is reproduced with permission. It also appeared on WSJ.com, the website of The Wall Street Journal].
Copyright (c) 2011, Dow Jones & Company, Inc.