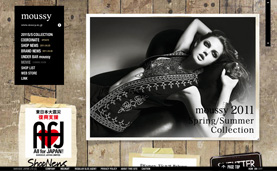 HONG KONG (Dow Jones Investment Banker) – Japanese fashion retailer Baroque Japan Ltd. is eyeing an IPO of up to US$300 million in Hong Kong, through CLSA and UBS. It may perhaps be better advised to wait until its international store network becomes wider, and the brand more mature.
Baroque specializes in trend-setting design, targeting young female consumers. The company was first established in 2000 as Fakedelic K.K. to distribute apparel and accessories under the "moussy" brand. It now has 223 stores in Japan and 26 stores in Hong Kong, Taiwan and the Chinese mainland. Brands include moussy, SLY, AZUL, rienda, Rodeo Crowns, BLACK by moussy and Miel Crishunant.
In Japan, 63% of its stores are directly operated. In greater China, however, most of the network is in the form of franchises – and only three of the brands are offered. It's a fairly recent expansion: The company opened subsidiaries in Hong Kong and Shanghai in 2007 and 2009 respectively. Each brand offers a distinct style type through dedicated stores.
Publicly available data on the company is patchy, but there were 1,404 employees as at January 31, 2011, of which 725 were part-time and contract staff. CLSA Capital Partners, the private equity arm of joint bookrunner CLSA, invested an undisclosed amount September 2007 through CLSA Sunrise Capital, a fund that focuses on Japanese "recovery opportunities". It provides growth capital by taking US$20 million to US$70 million minority shareholding positions. Interestingly, no Japanese brokers such as Daiwa, Mizuho or Nomura appear to have been appointed to handle the listing.
Assuming the US$300 million proposed IPO represents a 25% initial free float – the average in Hong Kong – Baroque Japan could be valued at more than US$1 billion. A listing in early October, as rumored, would therefore be conducted on the back of its first quarter results, just before the accounts go stale – assuming a March financial year end. It is as yet unclear whether a Japanese or offshore entity would be listed, although the former is probably likely since Japan is now on the list of jurisdictions accepted by HKEx.
Baroque Japan would in fact be only the second Japanese company ever to obtain a quotation there, following the dual listing last April of brokerage SBI Holdings Inc., previously already listed in Tokyo. SBI raised just over US$180 million at the time, but is currently trading 1.8% below its IPO price, having fallen by as much as 21% below water in June. Trading volumes are minimal, averaging just above US$60,000 per day, and on 20 days since the listing no shares at all have been exchanged, according to HKEx data.
Unlike SBI, Baroque Japan is planning a primary, rather than a secondary, listing in Hong Kong, so the issue of flow-back to Japan will not be an issue.
It's not difficult to see the attractions of a listing in Hong Kong for the company. Recent successful floats there by consumer and luxury goods stocks include Samsonite and Prada, as well as proposed listings by Coach and, possibly, Burberry. Other Japanese chain retailers such as Ryohin Keikaku Co. Ltd.'s Muji or Fast Retailing Co. Ltd.'s Uniqlo, have mushroomed in Hong Kong and the mainland, to offset the morose economic climate in Japan.
While investors continue to be attracted to consumer stories and stocks, which still represent a very limited proportion of Asian equity indices, Baroque Japan is no Samsonite or Prada and is unlikely to achieve similarly rich multiples. Its name is a largely unknown quantity in greater China. The company would perhaps be better advised to wait until it achieves critical mass internationally before attempting to court investors outside its home turf.
The word baroque is thought to be derived from the Spanish barrueco, which means a large, imperfectly shaped pearl. Indeed.
(Philippe Espinasse worked as an investment banker in the U.S., Europe and Asia for more than 19 years and now writes and works as an independent consultant in Hong Kong. Visit his website at https://www.ipo-book.com. Readers should be aware that Philippe may own securities related to companies he writes about, may act as a consultant to companies he mentions and may know individuals cited in his articles. To comment on this column, please email [email protected]).
[This article was originally published on Dow Jones Investment Banker on 5 August 2011 and is reproduced with permission.]
Copyright (c) 2011, Dow Jones & Company, Inc.