XCMG Construction Machinery is due to start investor education today for a proposed US$1.5 billion Hong Kong IPO. If it proceeds it will be the first listing greater than US$1 billion to test Hong Kong public sentiment since the US sovereign ratings downgrade sent global markets into a major wobble. This is a large offer arriving amid conditions generously described as lukewarm.
The firm will be in tacit competition for funds with its competitor, Sany Heavy Industry, which is close to launching its own US$3 billion float, and other highly visible and sizeable deals scheduled over the next couple of months.
It will battle negative investor sentiment, with institutions shorting shares to levels unseen since 2008, and a morose outlook for the property sector in China, which has hurt other construction machinery makers.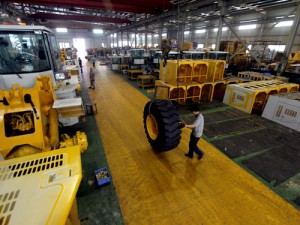 With a dominant market share and strong financials, XCMG looks like a good company, but the timing of the deal could put pressure on the offer price. What XCMG tells investors about its growth plans and how it will use the proceeds will also be critical to this deal's success.
XCMG, which is already listed in Shenzhen with a market capitalisation of equal to US$7.4 billion, was founded in 1989 in Xuzhou, Jiangsu province. Its name is derived in part from the company's original name: Xugong Construction Machinery Science & Technology.
As the name suggests, it makes and sells construction machinery in China and abroad. It's one of the world's top 10 construction machinery makers, alongside Chinese competitors Sany Heavy and the cumbersomely named Changsha Zoomlion Heavy Industry Science and Technology Development.
XCMG is perhaps best known for its truck-mounted cranes, boasting 50 per cent of the mainland market. Several more of its products are also ranked top globally.
It sells across markets as diverse as South America, western and eastern Europe as well as Asia. XCMG has posted steadily rising revenues and profit over the past three years, consistently increasing its margins. It's also cash-positive.
The comparables for XCMG's offering will include Sany Heavy, which is listed in Shanghai with a market capitalisation of US$19.2 billion, and which just received approval from the China Securities Regulatory Commission for an IPO in Hong Kong, and dual-listed Zoomlion, which raised US$1.68 billion through its own Hong Kong IPO last December, at a discount of about 14 per cent to its Shenzhen IPO price.
Sany Heavy trades on a 2011 price/earnings ratio of 13.7 times, while Zoomlion is on 11 times. XCMG itself trades slightly lower, therefore probably pointing to a single-digit multiple for the IPO.
Both Sany Heavy and XCMG have made good money for investors, with one-year returns of 95 per cent and 33 per cent respectively, but Zoomlion's performance has been pretty much flat over the period – and with considerable volatility in between. Zoomlion is trading at an all-time low in Hong Kong.
Investors will be concerned about the outlook for China's property market, as the government's cooling measures and interest rate rises take their toll. However, the capital raising will no doubt also be used to fund expansion overseas, perhaps including acquisitions, as XCMG and its competitors attempt to make a stronger mark in international markets.
Given XCMG's lack of gearing, international market participants will spend much time focusing on the detailed use of proceeds for the equity capital XCMG is looking to raise. The quality of that story will be key to this offer.
Philippe Espinasse worked as an investment banker in the US, Europe and Asia for more than 19 years and now writes and works as an independent consultant in Hong Kong. He is the author of IPO: A Global Guide, published by HKU Press.
[This article was originally published in The South China Morning Post on 5 September 2011 and is reproduced with permission]
(c) 2011 South China Morning Post Publishers Limited, Hong Kong. All rights reserved.