China Outfitters is an excellent example of how an attractive company can come back from a failed deal. The offering was covered at the time of writing and the issuer closed the books for its IPO on December 2 on decent demand.
It was a much different outcome to the one seen in June, when the firm tried and failed to bring a US$340 million deal to market and the Hong Kong exchange. That offering was pulled largely due to market conditions. The Greek crisis was in full swing then, and luggage maker Samsonite – another consumer goods company – started trading poorly at the time.
But, while some deals are getting done, market conditions are not exactly pristine these days, so what's changed for China Outfitters?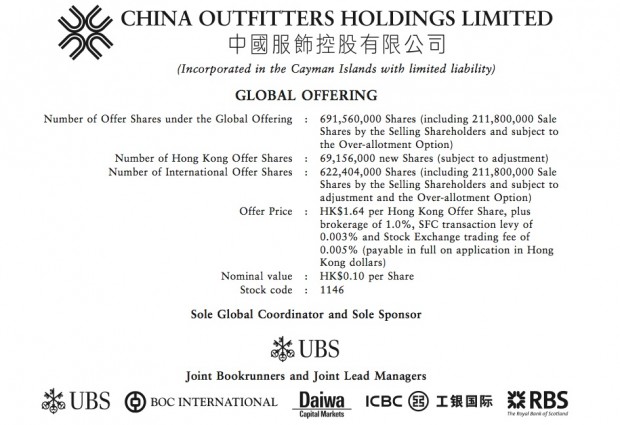 First, the offering was trimmed, representing the equivalent of a more digestible US$145 million.
Second, valuation was cut too. The revamped deal, which was offered at a fixed price of HK$1.64 per share, prior to investor allocations last Friday (December 2), saw the company's value trimmed to a 2011 price/earnings ratio of about 11.5 times (its June listing attempt was marketed at a PER of 14 to 19 times).
Third, with much of the ground work already carried out last summer, bookbuilding and the management roadshow were slashed from the usual two weeks to just four days, to achieve as much momentum as possible with investors.
Fourth, a sizeable cornerstone investor tranche was assembled, with Everbright Private Equity, KKR Apparel and The Sequoia Funds together taking a combined stake representing half of the deal. Interestingly, and unusual for Hong Kong, their commitments were not be protected in the event of reallocation of stock from the institutional tranche to the retail offer (also known as a "clawback").
The company, which has operated for over a decade and is partly-owned by the private equity group Orchid Asia, is involved in the design and manufacturing of casual menswear and accessories under the brand names JEEP and Santa Barbara Polo and Racquet Club (SBPRC). Its stable also includes Sideout, Hallmark, and trench-coat specialist London Fog.
The casual menswear segment is fairly concentrated in China, with the top 10 brands accounting for almost 50 per cent of sales. China Outfitters battles with foreign names such as Levi's or Zara, which dominate the mainland's shopping malls.
To do this, it sell its clothes in some 900 outlets, about 400 of which are self-operated. The company's growth is healthy. Net profit increased 191 per cent between 2008 and 2010 and by some 25 per cent this year, and margins have also improved. The balance sheet is also sound, with significant cash firepower at hand.
While UBS remained as sole sponsor of the deal and still appeared top left of the bookrunner roll call, it was joined by not less than four additional brokers, including BOC International, Daiwa, ICBC and RBS, the company taking no chances to ensure that no stone was left unturned through the marketing process.
The stock starts trading on December 9.
Philippe Espinasse worked as an investment banker in the US, Europe and Asia for more than 19 years and now writes and works as an independent consultant in Hong Kong. He is the author of IPO: A Global Guide, published by HKU Press.
[This article was originally published in The South China Morning Post on 5 December 2011 and is reproduced with permission.]
(c) 2011 South China Morning Post Publishers Limited, Hong Kong. All rights reserved.