HONG KONG (Dow Jones Investment Banker) – As the fortunes of the world's top luxury goods companies increasingly hinge on growth in Asia, and with Prada SpA showing that Western companies can successfully tap the Hong Kong stock market, ECM bankers there have been actively pitching corporates from Europe and beyond to float in Asia.
One of the strongest candidates has not been mentioned: LVMH Moët Hennessy Louis Vuitton SA's regional operations. A Hong Kong listing of LVMH Asia could capture the significant valuation arbitrage that exists between Europe and Asia without the parent having to relinquish control. An IPO could also generate significant proceeds for the group, while establishing a vehicle to fund further growth in China and South East Asia.
Iconic brands such as Burberry plc from the U.K., Germany's Hugo Boss AG, Ducati Motor Holding SpA and Ferrari SpA. from Italy, as well as Coach Inc. from the U.S., have all been considered prospective candidates for a Hong Kong listing in the recent past – and the investment case is not hard to fathom. With Asian consumers accounting for perhaps 50% of global luxury goods sales, much of the sector's growth is now to be found in Asia. Europe and the U.S. are both dogged by moribund investor sentiment and economic prospects; and Japan is still a market traumatized by the aftermath of March's earthquake, tsunami and ensuing nuclear crisis.
Prada is a case in point. Its sales in Asia have grown at a compound rate of more than 51% in each of the last three years. Revenues from Europe and North America have been flat, and have grown only in single-digit terms in Japan over the same period.
Enter the granddaddy of them all, France's LVMH, whose share price is down 6.4% year-to-date. With 518 stores, Asia – excluding Japan – is an important market for LVMH. It accounted for 25% of overall revenue (US$6.8 billion) in 2010, and an even higher proportion (28%) in the first half of 2011. The region is particularly important to the group's fashion and leather goods segment, which includes Louis Vuitton, Fendi and Donna Karan among other brands, accounting for 30% of its revenues last year. This year has also seen explosive growth (+52%) in sales of luxury watches and jewelry.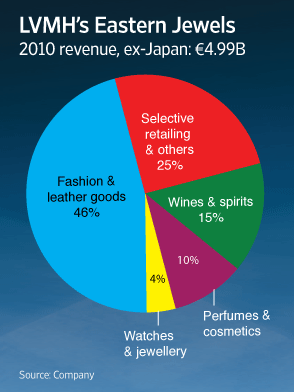 LVMH doesn't disclose profits by region, but with Asian sales growing at the fastest rate globally (+26% in local currency terms in the first six months of this year, compared with only 17% in the U.S. and 8% in Europe), and with China and other regional markets featuring heavily in the group's investor relations presentations, an increasingly significant share of profits is being derived from there.
Prada's bold decision to tie its fortunes to Asia has paid off, with the stock currently trading 8.6% above its Hong Kong IPO offer price, even amid the current volatility. But it's the Prada valuation, with a consensus prospective P/E of more than 27 times and an EV/Ebitda multiple of 21 times, that makes for more interesting reading – in comparison with that of LVMH, trading at 18.5 times and 11.5 times respectively.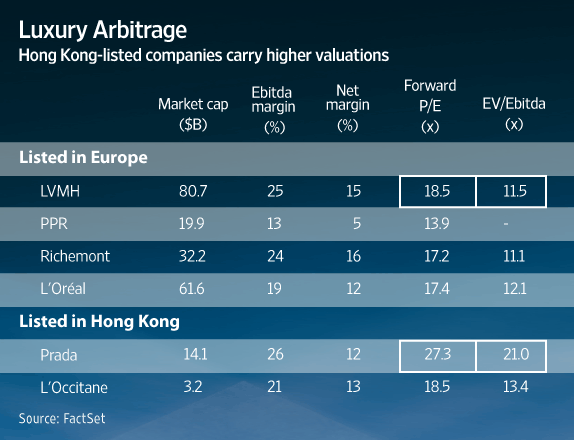 A Hong Kong listing of LVMH's Asian business could capture that valuation arbitrage. The group's diversified portfolio would also offer a more balanced investment case than Prada's. Assuming a net margin of 15% and a not-unreasonable P/E multiple of, say, 25 times, LVMH Asia could be a US$25 billion company. With such scale, it might be able to float as little as 15% of the business in Hong Kong, creating a liquid free float of US$3.75 billion, while still retaining full control over its operations. Depending on the primary/secondary mix for the offering, gross proceeds flowing back to LVMH could even approach the 2010 group share of net profits (€3.03 billion).
Moreover, a listing would add Asian institutions – no doubt including some of the region's leading sovereign wealth funds and tycoons – to the group's share register, currently dominated by French and U.S. institutions. It would also create a vehicle to fund potential acquisitions and investments in the region, over and beyond LVMH's in-house private equity scouts. As for the possible use of proceeds, a special dividend by the parent would be well received by the market, while a share buy-back could also enable Chairman and CEO Bernard Arnault to consolidate his hold on the group.
LVMH's values include being creative, entrepreneurial and innovative – bolstering the image of its brands with passionate determination. Listing LVMH Asia in Hong Kong could, seemingly, tick all the boxes.
(Philippe Espinasse worked as an investment banker in the U.S., Europe and Asia for more than 19 years and now writes and works as an independent consultant in Hong Kong. Visit his website at https://www.ipo-book.com. Readers should be aware that Philippe may own securities related to companies he writes about, may act as a consultant to companies he mentions and may know individuals cited in his articles. To comment on this column, please email [email protected]).
[This article was originally published on Dow Jones Investment Banker on 19 September 2011 and is reproduced with permission.]
Copyright (c) 2011, Dow Jones & Company, Inc.