I was invited on Bloomberg Television again this morning for a live interview on Astro Malaysia's IPO debut in Kuala Lumpur – and on Asian IPOs generally – with anchor Rishaad Salamat in the "On The Move Asia" show.
Astro Malaysia's US$1.5 billion IPO is the ninth billion dollar-plus IPO to price globally this year, and the third largest in Asia (ex-Japan) after those of Felda Global Ventures and IHH Healthcare, all of which were in Malaysia.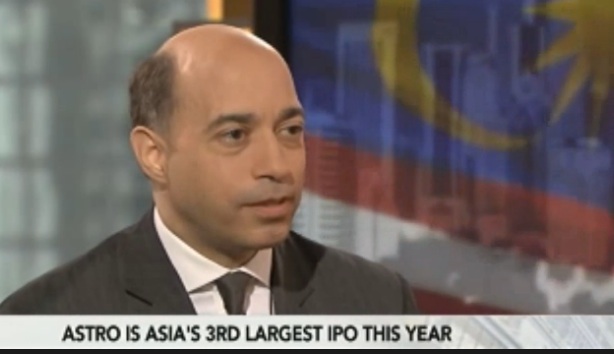 Global equity capital markets volumes in the third quarter were up 35% on the second quarter and South East Asia in particular had its most active quarter ever, according to Dealogic. With over US$7.5 billion in IPOs this year, Malaysia has now secured a 25% market share in the region – as compared to only 3% at the same time last year.
To see a video of my interview on Bloomberg TV (4'21), please click HERE.
Prior to this, I was also interviewed live this morning on BBC World News on the same topic, by anchor Rico Hizon on the "Asia Business Report" programme.