I was interviewed on CNBC's "The Call" this morning by anchors Bernie Lo and Emily Chan on what's in store for investors with the IPO in Hong Kong of mainland Chinese insurer PICC Group.
The deal could reach US$3.6 billion, and even top US$4 billion, assuming exercise in full of the over-allotment option. This would make it the largest IPO so far this year in Asia ex-Japan, ahead of the flotation of Felda Global Ventures in Malaysia.
For further details on the PICC IPO, please click HERE and HERE.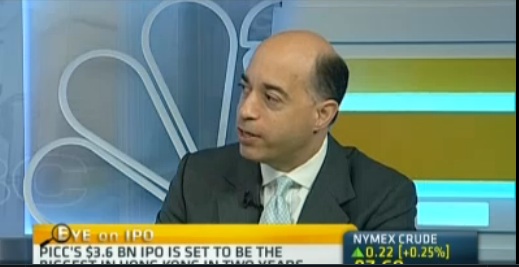 To see a video (4'22) of my interview, please click HERE.
Separately, I was interviewed earlier today on Hong Kong's RTHK 3 radio by anchor Bryan Curtis in the "Money for Nothing" programme, also on the PICC IPO, as well as on primary equity market conditions in Hong Kong and the wider region. For a link to the podcast of my interview, please click HERE.
A separate, recorded interview I gave to BBC News yesterday will be also posted on this website once it has been aired.