Bookbuilding closed late last week for the re-launched initial public offering of Haitong Securities, the mainland's third-largest broker by revenue, bringing welcome activity to a lacklustre Hong Kong new issue market.
The US$1.67 billion offering will become the largest IPO in Asia in 2012 upon settlement and start of trading on Friday (April 27). This means that other listing candidates – such as Fosun Pharmaceutical, Inner Mongolia Yitai Coal or even China Everbright Bank – may perhaps soon launch their own deals, on the back of an improved investor sentiment, and before their year end accounts go stale
But what has changed since the aborted IPO last December?
For starters, market conditions have improved quite a bit. As of the end of last week, the price of Haitong Securities' A shares (yuan-denominated shares listed on the Shanghai exchange) had increased by some 22% since mid-December, when the previous attempt at a Hong Kong IPO was pulled. And the price of rival Citic Securities' shares in Hong Kong had also jumped more than 23% since its Hong Kong listing last October – a sign that sentiment had changed for the better for mainland brokerages.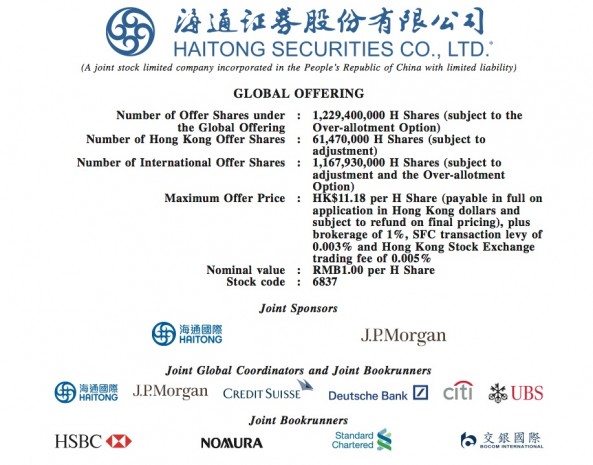 Haitong Securities had also beefed up the presence of "cornerstone" investors – tycoons or firms that commit to buying an IPO at the offer price, ahead of its market launch. But while no fewer than 11 such investors had signed up for a combined US$580 million, effectively pre-buying one-third of the shares on offer, a single one, PAG Capital, chipped in for US$300 million. The others included hedge fund D.E. Shaw, several Asian banks and brokers (a number of which are from Japan), but only one sovereign wealth fund – from the Middle East. Most of these placed orders for amounts from US$12 million to US$30 million, considerably less than what one would normally expect cornerstones to commit to a billion dollar-plus offering.
The banks involved had also lined up some "anchor" investors, which are neither named in the prospectus nor commit to hold the shares for a set period. Among these were Singapore's GIC as well as Chinese insurers China Life and Ping An.
Pricing was sweetened in relation to Haitong's prevailing market price in Shanghai. Brokers' equity valuations are generally computed on the basis of a ratio of market capitalisation to book value, otherwise known as price-to-book.
By way of reference, Haitong's A shares traded on April 20 at a price-to-book of about 1.9 times. For the Hong Kong listing, the deal was priced at HK$10.6 per share or around 1.3 times price-to-book, towards the lower end of the indicative range. Other mainland brokers, such as Citic Securities, trade at a higher level.
Some changes were also made to the group of underwriters, with the addition of a global coordinator and of a bookrunner respectively to the roster of banks. An 11th joint bookrunner subsequently also joined the syndicate.
Haitong is smaller and more domestically oriented than Citic Securities (which may also now buy its partner Credit Agricole's stake in Hong Kong-based CLSA, thereby further boosting its international credentials). So its prospects are perhaps more immediately tied to a soft landing for China, where it has been rattled by challenging markets and has also lost some ground in securities brokerage.
Creating momentum was important: "formal" marketing to institutions was slashed from the usual two-weeks to just a few days, which is not unusual with re-launched IPOs.
The initial size of the retail offering was reduced from the standard 10% to only 5%, as befits larger IPOs in Hong Kong. But this was perhaps also an indication that the lead banks were not expecting blowout demand from individual investors, who still lack enthusiasm for new issues.
It looks like the belt and braces approach may have paid off. the IPO proceeds should help Haitong with its growth and development, especially with strategic acquisitions overseas. But its fortunes will remain tied to that big unknown – the market.
Philippe Espinasse, a former investment banker, is the author of "IPO: A Global Guide" (HKU Press).
[This article was originally published in The South China Morning Post on 23 April 2012 and is reproduced with permission.]
(c) 2012 South China Morning Post Publishers Limited, Hong Kong. All rights reserved.