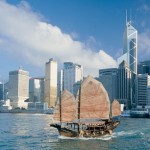 Hong Kong Exchanges and Clearing Limited (HKEx) published on 20 December a set of market statistics for 2011 (up to 15 December) on its website.
Many new records were set in the derivatives market in 2011, particularly in the trading volume of various options, including the Hang Seng Index options, H-shares Index options and stock options. Furthermore, various futures contracts also reached new record highs this year.
In the securities market, the total number of shares traded reached 39,073.5 billion as of 15 December 2011, a record high.  Separately, the total number of transactions rose to a record high and stood at 209.6 million in mid-December.
Highlights from the securities market statistics are as follows:
As at 15 December 2011, there were 1,488 companies listed on HKEx's securities market and the total securities market capitalisation (Main Board and Growth Enterprise Market, or GEM) was US$2,193 billion equivalent.
The total equity funds raised in the securities market reached US$59 billion equivalenet in mid-December, comprising US$32 billion raised through IPOs and US$27 billion from post-IPO fundraising.
From 1 January 2011 to 15 December 2011, the average daily securities market turnover was US$9.2 billion equivalent.
To see the entire set of slides, please click HERE.