Second-hand luxury handbag retailer Milan Station made headlines last week as it warned of an expected loss for this year, which it said was to be blamed on continued slow demand for luxury goods.
The news consolidated a remarkable downfall seen by the firm since its initial public offering in May last year. Readers may recall the public offer for Milan Station's IPO was subscribed a record 2,179 times and that its share price rose 66% upon listing. However, at time of writing, the stock was more than two-thirds below its offer price. Trading volumes have also taken a beating, with a 30-day average volume equivalent to a rather paltry US$70,000 per day. Assuming it could line up investors, Milan Station would find it difficult issue new shares. Any new offering would invariably represent a very high number of trading days, a key measure for follow-on equity transactions.
Where did it all go wrong?
The timing of Milan Station's IPO couldn't have been better. Riding on what then seemed like a wave of new equity issues by European luxury companies in Asia, it did beat Prada at the post, capitalising on investor sentiment and on the appeal of high-end brands to consumers from the mainland. The prospectus for the listing indicated that the luxury branded handbag market in China was worth US$1.72 billion in 2009, a level that was forecast to quadruple by 2014. Such a rosy picture, however, now looks doubtful, as illustrated by French group LVMH's third quarter results two weeks ago, which suggested that China's love affair with luxury goods could be on the down slope.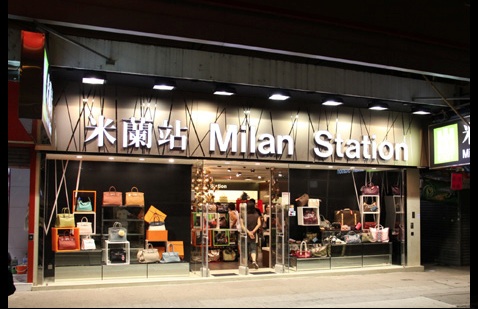 Documentation for the Milan Station IPO also disclosed cause for worry. To start with, although not uncommon with mid- or small-cap IPOs in Hong Kong, Milan Station had posted a negative operating cash flow in 2010. This cash outflow almost doubled in 2011, to a negative HK$4.3 million. Over the same period, operating expenses increased at double the rate of revenues. There were issues about the company's business model too, and about its sustainability, an issue that has recently resurfaced with concerns about the supply arrangements for Japanese competitor Brand Off (see "Not a cheap knock-off in sight", published in Money Post on October 29).
While Milan Station highlighted in its offering circular that 85% of the handbags it sold came from private consumers, it also disclosed that over 46% of these (and a whooping more than 55% at the end of 2011) were unused, rather than second-hand items. This raised (and still raises) obvious questions about parallel imports – a rather topical matter nowadays. The company's plan to open 24 new shops between 2011 and 2014 now perhaps looks ambitious. According to its website, its store portfolio has only increased from 14 to 17 outlets since listing.
But, more than anything, a lack of liquidity clearly failed to provide good support for the stock. With a free float of only US$35 million, 15% of which took the form of "friends and family" cornerstone investors (including a celebrity sushi restaurateur and tycoons of local paper and jewellery businesses – arguably not really the usual, influential institutional accounts), aftermarket trading was always expected to be diminutive once the initial excitement of the IPO had subsided.
This in turn discouraged coverage of the stock by sell-side research analysts that pitch investment ideas to professional investors. Indeed, according to information provider FactSet, only one such broker (Phillip Securities) still actively follows the company – with a sell recommendation to boot and a target price of HK$0.42 – a downside of 25% from current levels. With institutional ownership at only 5% of the free float, little improvement in this area should be expected any time soon.
When it comes to IPOs, common sense should prevail. Spinning a good – but realistic – story is paramount – as is the ability of investors to buy and trade in size. Milan Station, unfortunately, offered a decidedly mixed bag of both to investors.
Philippe Espinasse, a former investment banker, is the author of "IPO: A Global Guide" (HKU Press).
[This article was originally published in The South China Morning Post on 5 November 2012 and is reproduced with permission.]
Click HERE for my article of 4 May 2011 published by Dow Jones Investment Banker: "Milan Station IPO not yet in the bag".
Click HERE for my interview by FinanceAsia magazine in June 2011 on the Milan Station IPO.