Season oblige, I was asked by the South China Morning Post to write a long piece on wine auctions, which many equity capital markets bankers follow as a pastime, and which was published in today's Food & Wine supplement.
Hong Kong is, yet again, set to dominate wine auctions this year – a global crown it earned thanks to the abolition of the excise duty in 2008. As of the end of November, the city has held no less than 21 major events (some conducted over several days), raising a combined US$130.3 million. That figure excludes online auctions, and is well ahead of those achieved by rivals New York (US$56.1 million) and London (US$29.3 million).
San Francisco, Los Angeles, Chicago, the Hamptons, Paris, Geneva and Amsterdam have each also hosted important – although smaller – wine sales this year. That's in addition to the vente de charité des Hospices de Beaune, a candle auction held each November in Burgundy, and which, this year, raised more than US$7.5 million for charity in a sale orchestrated by London-based Christie's. No doubt the glamour of  France's former first lady, Carla Bruni, acting as a guest auctioneer, helped to raise that total.
So far this year, Acker Merrall & Condit, based in New York, tops the tally with US$39.3 million in proceeds, closely followed by Zachys, a company based in White Plains, New York. Just behind is Christie's, with New York-based Sotheby's a more distant fourth. British firm Bonhams also held an auction at Pacific Place on November 21. The top four are believed to generate some two-thirds of their wine revenues in Hong Kong. The city has become so attractive as a wine auction centre that chef Ferran Adria has chosen to sell the 8,807 bottle cellar from the now defunct El Bulli restaurant here and in New York (they will be auctioned by Sotheby's on April 3 in Hong Kong  and April 26 in New York).
"Hong Kong remains, by far, the largest fine and rare wine auction market as we end 2012. The reason is simple – it's home to many of the most sophisticated and knowledgeable wine collectors in the world", says John Kapon, Acker's CEO.
Upcoming auctions include one by Acker on December 6, 7 and 8 to be held at Grissini, at the Grand Hyatt. It will feature the first-ever 
direct auction offer from Gaja, Italy's foremost wine making family. DRC will also be available, including assortments of 1996 and 1999 (estimated at up to HK$400,000 for a case of 12), magnums of 1983 and 1985 La Tâche (up to HK$80,000), and verticals spanning the 1980 to 2009 vintages. From Bordeaux, the highlights will include Château Haut Brion, with 55 vintages and Château Margaux, with 60 vintages (in both cases, from 1945 to 2009), as well as Château d'Yquem, with 47 vintages (1945 to 2007).
A sale by Sotheby's, also on December 7 and 8, will feature Bordeaux from a European cellar (the top five lots are all Pétrus, with up to HK$550,000 estimated for 12 bottles), and Hermitage La Chapelle from the 1949 to 2009 vintages, directly from the cellars of Paul Jaboulet Aîné (the top lot there is three bottles of 1961, estimated at up to HK$400,000).
Zachys will also hold an auction at the Mandarin Oriental on January 11.
The biggest auction so far was by Christie's, and held over three days from November 23 to 25, raising US$13.9 million in aggregate. The top ten lots on the last day were all wines from Domaine de La Romanée-Conti (DRC), the highest being 12 bottles of the 1988 vintage, which sold for HK$907,500. The second largest auction was by Sotheby's, on October 5 and 6, bringing in US$9.5 million. The top lots were nine bottles of DRC 1990, sold for HK$1,715,000 (including the buyer's premium), as well as 12 bottles of Château Pétrus 2000 (HK$441,000). Of the top ten lots, six were grand cru Burgundies – all from DRC.
The shift towards some of the more famous, double-barreled names of Burgundy is a new development for Chinese buyers, traditionally attracted to first growth Bordeaux, and to a few select names on the right bank, in Pomerol and Saint Émilion. At the recent Bonhams auction, some of Bordeaux's best-known labels did fairly well, including 12 bottles of Pétrus 1998 for HK$214,200, six bottles of the 1964 (HK$166,600), and a lot of six bottles of Lafite Rothschild 1982 (HK$130,900). But the real stars of the show were the Burgundy grands crus. These included 12 bottles of DRC 1988, sold for HK$1,047,200, six bottles of the 1995 (HK$511,700), and six of the 1993 vintage (HK$452,200).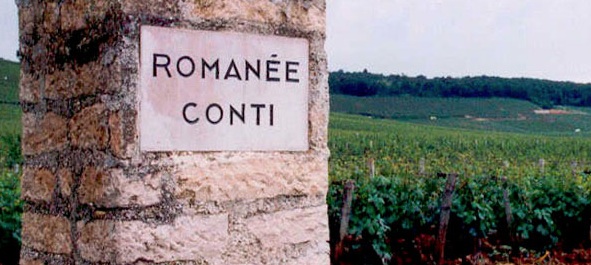 With much smaller production volumes than Bordeaux (a by-product of Napoleonic inheritance rules, resulting in increasingly smaller parcels of land, as vineyards pass from one generation onto the next), Burgundies can reach wince-inducing hammer prices. "We are seeing more and more sales of Burgundies at auction in Hong Kong, as mainland buyers shy away from Bordeaux, which have seen inflated en primeur prices in recent years. The wines they seek, in addition to DRC, are all from the best producers, including Lafon, Coche-Dury and Rousseau", says Sébastien Chevalier, Hong Kong representative for Sarment, a high-end, membership-based wine advisory service set up by sommeliers from the world's top restaurants. "Burgundy prices, particularly for red Burgundy, have been the most important story in the 2nd half of the year", adds Acker's Kapon.
It's no surprise that Chinese buyers now pursue Burgundies (and wines from other regions) as rarer and more exclusive alternatives to top up their cellars. Last August, Louis Ng Chi-sing, a Macau casino executive, purchased the 5.7 acre estate of Château de Gevrey-Chambertin, amid much controversy and criticism in rural France. Doug Rumsam, Managing Director in Hong Kong for merchant and trader Bordeaux Index, notes that "2012 has been a year of fascinating discoveries, with new trends: Burgundy, Champagne and Italy".
Many of the lots sold at auction are from large collections, assembled by wealthy amateurs. The issue of provenance remains paramount to establish quality. Fakes wines remain widespread, on the mainland in particular, and especially when it comes to the better-known labels. Distinctive markings, including holograms and ASE bar codes, have now been introduced to deter counterfeiters. Empty bottles of first growths and grand crus are also often destroyed after tasting events, to prevent illegal recycling by unscrupulous sommeliers. In 2007 and 2008, a Chinese-Indonesian collector was caught red handed trying to sell fake magnums of Château Le Pin 1982, as well as bottles of Domaine Ponsot Clos Saint-Denis (but from vintages that predated its first bottling!), through Christie's and Acker, respectively.
Much (but not all) of the wines bought at auction in Hong Kong are sold by vendors based in the US, as can be seen from the tell tale "strip" or "slip" labels affixed to these bottles, with the name of the local importer, as well as health warnings. Some of these wines can be rather well-travelled too, which tends to affect their quality.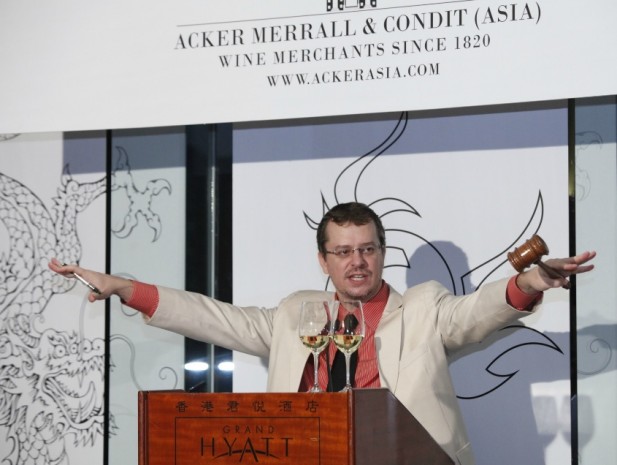 Wine sold at auction is mostly bought by individuals (some from Hong Kong, but most from the mainland), and a few on-trade outlets. However, many of the world's major wine merchants do not source through auctions. Bordeaux Index states on its website that it generally does not purchase US strip-labeled stock, or wine that has been shipped back into Europe from the Americas or Asia. Similarly, Berry Bros. & Rudd, in business since 1698 and still run by the same family, mentions in its inspection guidelines that bottles with US or non-EU strip labels are to be rejected.
Alongside sales events, online auctions are gaining in popularity. Established in 1996, Winebid.com has 70,000 registered users world-wide, who can sell on its platform through a three-step process involving a complimentary appraisal and subsequent consignment, prior to auctions held on a weekly basis. Zachys holds monthly online-only auctions (the next one on December 15) – as does Acker. Denmark's Bruun Rasmussen offers weekly online sales, featuring wine, alongside paintings, works of art and coins. Closer to home, Hong Kong Fine Wine Auction operates an internet marketplace which, at the time writing, included 719 listings. "Online auctions are an important part of our business too, and just as global in its nature as is our core auction business", says Kapon.
Philippe Espinasse is the author of "IPO: A Global Guide" (HKU Press) and holds a diploma in wine from the WSET.
[This article was originally published in The South China Morning Post on 6 December 2012 and is reproduced with permission.]