I participated, alongside 14 other professionals, in a study for an in-depth report from PwC and Baker & McKenzie (coordinated by consultancy Meridian West) on cross-border IPO trends.
The title of the report, which was published yesterday, is "Equity sans Frontières: Trends in cross-border IPOs and an outlook for the future".
Between 2002 and 2011, cross-border IPOs have accounted for 9% of the volume and 13% of the value of all IPOs. Companies from China have driven cross-border activity. Chinese companies have completed the largest number of international listings (30% of all cross-border IPOs).
According to the study, London and New York are the most international exchanges, attracting companies from all over the world – 41% of all cross-border IPOs have taken place in London and 23% in New York. Stock exchanges in Singapore and Hong Kong and hubs for the Asia-Pacific region.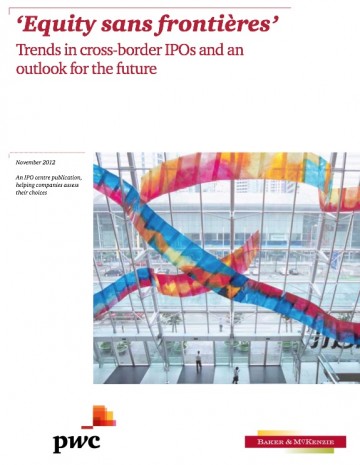 For a link to the report, please click HERE.